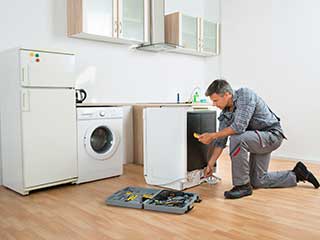 Problems with electrical infrastructure create more than an annoyance. They can lead to serious dangers and fire risks. When faced with such issues, you need to get help from a reliable, professional source, ASAP. Northridge Electrician can help with any electrical issue you're experiencing at your home or office space. We understand that there are hundreds of things that can go wrong with electrical appliances and systems. As a local Northridge electrical repair company, we're proud to help keep residential and commercial customers from all over the LA area safe. Our range of electrical repair services covers every eventuality. This includes common home electrical repairs, such as faulty wiring, as well as events when your oven or refrigerator stops working. Any repairs you need, you can leave to our experienced local electricians.
Local Electrical Contractors
Getting help from a reliable and nearby source is paramount with electrical problems. Knowing local professionals to contact will help you get issues solved quickly and prevent them from exacerbating. Northridge Electrician provides the fastest same-day electrical repairs around this part of the greater LA region. Thanks to our hard-working electrical contractors, we provide our services 7 days a week to all the nearest cities. If you have a faulty microwave, or you can smell burning plastic, we don't want you to have to wait. If you need our help, we'll be there. Our low prices mean you'll never have to worry about getting safe electrical repairs whenever you need them.
Emergency Electrical Repairs In Northridge
There are times when you just can't wait for help and need it to arrive ASAP. Flickering lights or a buzzing sound can indicate faulty home wiring but some problems demand an urgent response to prevent serious dangers. Our Northridge electricians will quickly take care of any such issue by getting to your property in the shortest time possible. We particularly use cation when it comes to electrical wire repairs since these have the potential to start fires or short-circuit other systems. We have a team of local electricians nearby ready to help on a moment's notice. So when you need help in a hurry we can be there ASAP. Never hesitate when you need emergency electrical repairs for homes or office spaces. Prevention is half the battle, but when problems end up arising suddenly, you need urgent response to handle them on the spot.
General Electrical Appliance Repairs
There's no shortage of electrical appliances in the average Southern California home, and we repair all of them. From washing machines to stoves and smoke detectors, our Northridge electricians have the experience to handle any problem that comes up. We offer electrical appliance repairs for all brands and manufacturers. Some problems with general appliances will just prove annoying to deal with. Others, however, can present serious dangers. For that reason, you need to make sure you leave electrical appliance repairs to your local experts. Thanks to our affordable service rates, you can avoid risks and save money at the same time!
Ready To Help With All Electrical Repairs
There's no limit to what our Northridge electrical contractors can achieve when it comes to repair work. Whether you need electrical sockets repaired, or new wiring to replace bad parts, our team is on the case. Find out about the low price of electrical repairs by contacting Northridge Electrician anytime via our 24/7 hotline for services. We'll happily schedule a same-day repair, or give you a free quote on any other electrical service.